by
Every year the staff of the Ballston Spa National Bank select nonprofit groups to receive donations. We would like to thank everyone at the Ballston Spa National Bank for selecting the Town of Ballston Community Library!
Travel Writers Workshop
Fiction writer Susannah Risley will facilitate a three-session Travel Writing Workshop that will explore writing about journeys and destinations.  Participants will be encouraged to write on every aspect of travel they may have experienced, from local to global, and every kind of place, from familiar to exotic.  We will also discuss the history of travel writing.  This supportive workshop is for writers at any level, from new to seasoned, and is funded by a grant from Poets and Writers Inc.  *Registration Required
The workshop will meet on March 26th, April 2nd, and April 16th, from 11:00am-1:00pm.  To register, click here, or call the Library at 399-8174, ext 2.
Article in the Daily Gazette
Some fabulous pictures from our Library were featured in an article in the Daily Gazette on March 8, 2015! The article discusses how all of the local libraries benefit the community through services and programs offered. Along with the pictures, there is some great information about not only our library and the programs we offer; but information about the local library systems, and how they operate. Check out the article!
http://www.dailygazette.com/news/2015/mar/08/libraries/
It's Tax Season and you're ready to go! We've gathered together some information that might help:
TAX INFORMATION Note: The NYS IT-201 forms and instruction books are here! Federal Tax Forms 1040, 1040-A, and 1040-EZ are here.
The IRS is not sending instruction books, but we do have a limited number of instruction books available to borrow and one copy of each to look at here at the library.
Don Quixote Display
The Town of Ballston Community Library is pleased to announce the donation of a wonderful gift.  A permanent display of the Don Quixote figures that many admired in our monthly display case earlier this year, is now in the Reading Room of the library!
The figures were collected by Anne Bishop, who was fascinated with the character of Don Quixote.  Anne Bishop began collecting them after seeing Richard Kiley perform on Broadway in "The Man of LaMancha."
According to Anne's children, many of the figures came from overseas, including marionettes from Prague.  Many also came from Anne Bishop's travels around the United States.
The display was graciously donated by the children of the collector, Suzanne Bishop of Ballston Lake, Kim Bruton of Waterford, and Christopher Bishop of Wilton, CT.
Information on the Town of Ballston Sewer System can be found here:
Ballston Lake & Watershed in Crisis Issues and Observations
Phosphorus & Onsite Wastewater Systems
Have you seen the new sign at the Library? It was made possible in part by a Special Legislative Grant from Senator Hugh Farley.
Read the Library Sign Press Release
We won a subscription to ScienceFlix. ScienceFlix combines curriculum-driven resources, interactive features, and an easy to use interface for students in grades 4 through 9. Read information about science topics, watch videos, create projects, take quizzes and more.  You can also get information on creating science experiments and careers in science.  Information provided includes citations and lexile numbers. You will need a library card from the Town of Ballston Community Library (begins with 10007).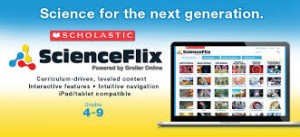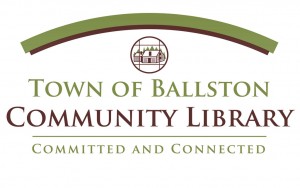 Are proud to present you with an Online Book Club!
Join our online Book Club through The Ballston Journal, and sponsored by Northshire Bookstore!
Feel free to join the conversation about the book every month if you've already read the book, or go check out or buy the book and then join the discussion!
https://theballstonjournal.com/category/ballston-spa-features/online-book-club/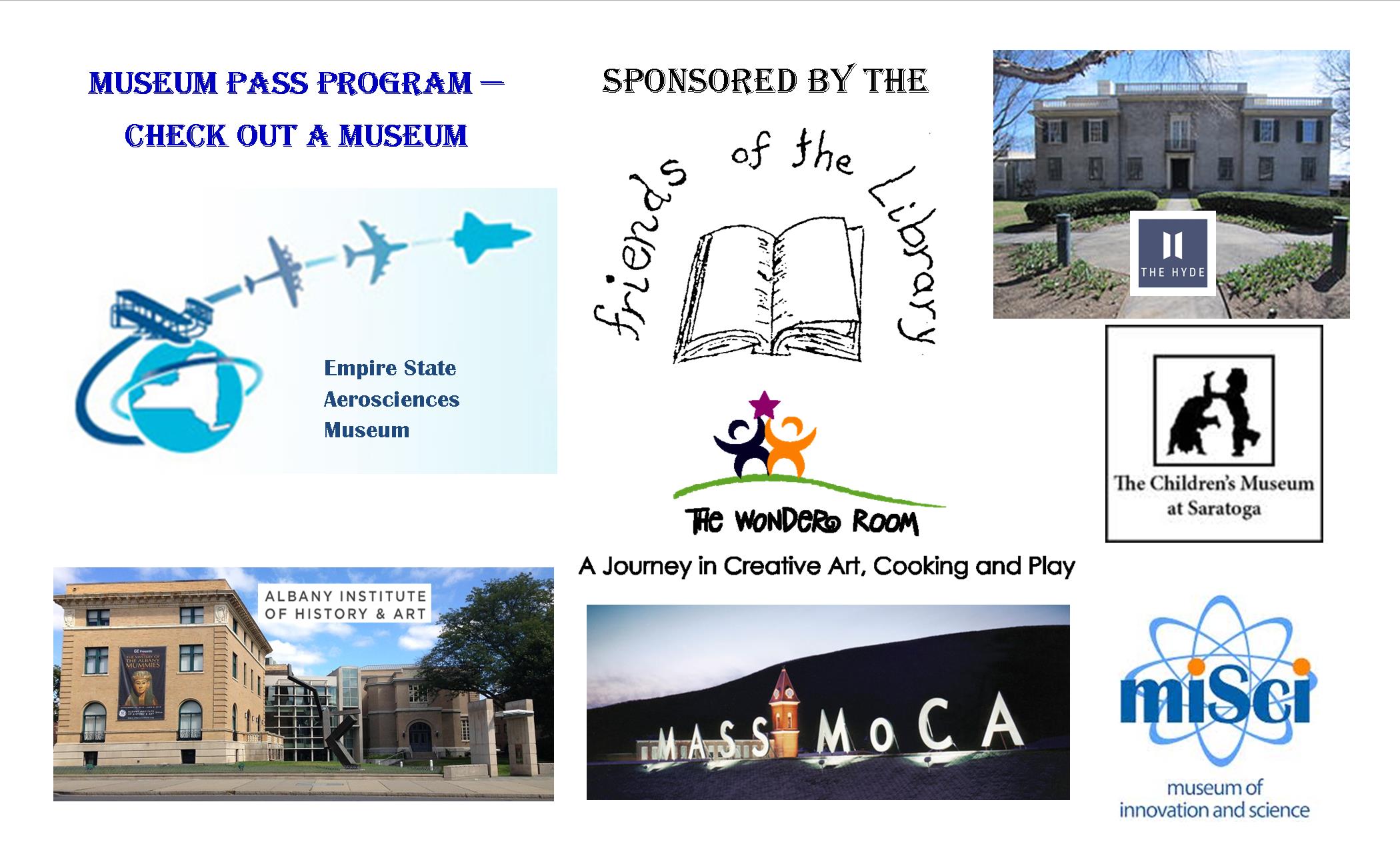 Enjoy a museum visit on us! Patrons can check out a Pass FREE for three days!  Choose from our collection of six museum passes and explore wonderful local museums.   The goal of the Museum Pass program is to provide children and adults an opportunity to experience history, culture and the arts through a visit to a museum. The Friends of the Library is able to offer the Museum Pass Program due to the success of its many fundraising activities. Our Membership Fee Donations, gifts from generous donors, revenues from the Used Book Sales, Library Mini Golf, the Spring Fling Raffle, and other fundraisers allow the Friends of the Library to offer this service to our library patrons. For information on becoming a Friend of the Library, check out our information page at http://toblibrary.sals.edu/index.php/friends/ If you would like to sponsor a family membership to an area museum, please contact Library Director Karen DeAngelo at the library or by calling 518-399-8174 ext. 5 or by email at kdeangelo@sals.edu
Passes are available from the Town of Ballston Community Library.
Passes must be returned to a staff member at the Town of Ballston Community Library Circulation Desk during regular library hours. Do not use a Drop Box or return them to another library.
Passes may be checked out by library patrons (18 and older) who possess a valid library card in good standing.
Passes are first-come, first served; there are no requests or renewals.
There is a limit of one pass per family at any one time.
Loan period: 3 days.
Overdue fee: $5 per day.
Contact museum for schedule and hours.
The borrower will be responsible for the replacement cost listed on the pass if it is lost or stolen.
Stop in the library, or check out The Friends of the Library Page for more information! You can check to see if they are in here
Town of Ballston Historian Rick Reynolds on Schenectady Today talking about Ballston 225: Watch it here  
If you are an artist or photographer who would like to display your work in the library community room,  or a collector who'd like to use our display case to allow the community to see your collection,  please email kdeangelo@sals.edu
2013-2016 Library Long Range Plan
2013 Annual Report to the Public
Emergency Closings are  reported on the Times Union Website as Town of Ballston Community Library, here, on our sign, and on our Facebook page. Please check here or call us at 399-8174 ext. 2 before coming out if the weather is bad.